Being a new filmmaker is like navigating rough waters. In fact, making movies is one of the few jobs in the world that, when done correctly looks extremely easy. If you know anything about the craft, you know making movies is challenging. However, do not let the idea of the work involved or the potential difficulty of the task stop you from making your first flick.
If it was easy, everybody would be doing it, right?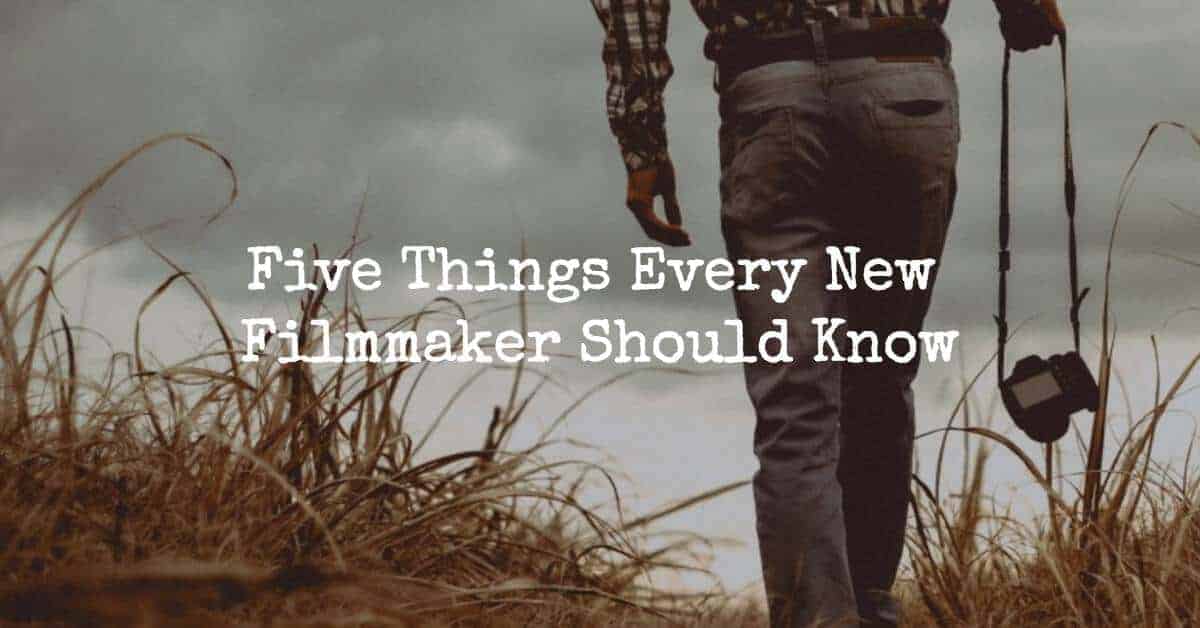 Five things Every New Filmmaker Should Know
Here are a few tips I learned while producing my first feature length film. These are the same things I think every new filmmaker should know.
1. No Such Thing as being too Prepared
You can't really state this enough. Sounds like it would be common knowledge but the truth is a lot of film-makers/directors go into their projects not having thought out the little things that need to be done. Having back-up locations, what to do if an actor becomes unavailable, How to continue if money becomes an issue?
All these things (and more) happen and new filmmakers get stuck because of them but if you take a little time and prepare a "business plan" of sorts to produce your feature you can prevent a great deal of hiccups. This is extra work but worth it!
2. Don't Sell Yourself Short
I have often said the biggest obstacle I've had as a new filmmaker was myself. I didn't know that the statement applied to many people. We tend to talk ourselves out of the job before the job has begun and feelings of "I'm not good enough," or "I can't do what they do" or "I'll never make it!" These doubts flood our brains. This is a common thought process amongst most artist. Read this book: Art & Fear: Observations on the Perils (and Rewards) of Artmaking.
The point is this. Get past it. Some people or going to like what you do and some people are going to hate what you do. But you'll never have the chance to be good or bad if you don't take the chance. Besides what the heck do people that never picked up a camera or written a script know about the process anyway?
3. Don't Underestimate what you own
Another big derailing factor is, "I don't have access to props, actors, locations, et al." Wrong! You have things that you use everyday. You have access to things that your friends and family uses. Make a list (getting prepared again) of all the items and locations that you can use to get your movie done.
Having that list will get you mind wrapped around the possibility of your movie become a reality. Yeah, technically you don't own actors but the point is you can get some for free. LOTS of acting websites, groups, classes and more out there! Believe me, many want to do project just to create a reel and be part of something. Use that to your benefit.
4. Keep From being Overwhelmed
Although it may feel like it there is no reason for you to swamp yourself with every little task on set and in post-production. Find help. Much like the actors, there are people out there that find working on a movie of any size sexy and will help for the experience. If you really work at it you can develop a small group of production staff to keep the wheels of your movie underneath and rolling.
5. Cut Your Losses Quick
Just because you're getting work for free doesn't mean that you have to deal with the possible crap that some people will general. This is the advice I wish I knew making my first. Sometimes people change their minds, schedules begin to conflict or any number of things may happen to play havoc with your production but remember your production is as important to the people that invested their time in it as it is to you.
You owe it to them and yourself to do what it takes to keep that project moving and sometimes that means making the hard decisions. Anything that becomes cancerous on your set (you'll know it when you see it) get rid of it fast! If not it may just drag your production into the toilet.
If you're a new filmmaker, you might want to check out the Filmmaker Action Pack.
– –
Brian Green is an independent filmmaker based in Atlanta, Georgia. Since 1999 has worked on and off in the television and film industry. His first movie, The Interrogation. (2011), was an official selection at the (2011) Bronze Lens film festival. It was brought to Atlanta television airing on Atlanta Shorts. Additionally he produced The End Agenda (2015).список мфо россии выдающих экспресс займы